Have you ever realized that with the winter season ending and spring beginning, you start feeling the need to up your windows and doors? This natural feeling might also lead you to give your house a good scrub internally and externally.  
Now, although most people tend to clean the interior on its own, the exterior also needs some love. Your house's exterior is tasked to protect your family from different pollutants and elements such as sun, moisture, wind, pets, and insects.  
But in the process of protecting you, your exterior will accumulate dirt and grime, which makes them unappealing, discolored, chapped, cracked, or might start rotting. As a result, you need to schedule a regular cleaning.  
Cleaning your house exteriors has many benefits, including boosting curb appeal and property value, protecting your structure, and helping to remove mold and mildew. Deep cleaning your exterior can be taxing, especially if you have a large house.  
As a result, it's highly recommended to reach out and hire a professional washing company such as Pressure Washing Cullman AL or other companies near your place. These professionals know enough about cleaning house exteriors to achieve great results. However, if you don't have a budget to hire professionals, you might need to tackle the cleaning process independently. If you are a beginner, the cleaning process can be overwhelming, and as a result, discussed below is a simple guide to keep you on the right track.  
Start At The Top
Starting at the top means cleaning your roof and gutters. But before starting your cleaning, consider the type of roof you have and the amount of safety you'll need. For instance, if your roof is too steep, consider finding slip-resistant rubber-soled shoes to give you a grip.  
Next, find a cloudy and calm day to wash your roof to avoid having your cleaning solution evaporate quickly, thus reducing its effectiveness. And study your roof to understand the type of cleaning it needs. For instance, if the roof is dark and discolored, it might mean that mold has developed, but if you realize that there are thick green patches, you have moss instead.  
So, when cleaning your roof, use a solution of chlorine, bleach, and water in equal parts. Use your garden hose connected to a sprayer and spray the entire space with the solution you made, then let it sit for close to twenty minutes. Next, rinse thoroughly with clean water until it's back to its former glory. If there is stubborn grime, use a bristled brush to get rid of it, then rinse again.
Scrub Your Gutters
Keeping the gutters clean is important as it's responsible for keeping rainwater from the foundation of the house by diverting it through downspouts. To begin, you'll need to get rid of debris, and the best way is by using a leaf blower or vacuum.  
After finding the attachment that connects it to your power source, vacuum your entire gutter, then use a garden hose to clean it. Flush your gutters and downspout with water, especially if you don't have any blockages.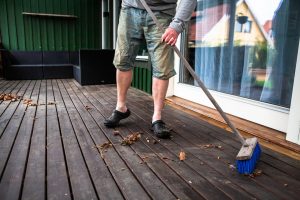 Alternatively, you can use a power washer guaranteed to remove stubborn dirt and grime. The power washer is perfect for clogged downspouts, and you should use it until you confirm that the blockage is gone.  
Clean Your Siding
Your house's siding makes a big chunk of your exterior and needs extra care. By cleaning your siding, you'll be protecting it from being damaged by different elements. You can get ready-made cleaning solutions made for the type of siding you have that cleans stubborn stains or make your own cleaning solution.  
For your homemade solution, mix water and dish or laundry soap. Next, use a garden hose and an attachment that controls the flow of cleaning solution to spray on the siding. Using a soft-bristled brush with a long handle, work in small sections and start from the bottom as you work up to prevent streaking.  
After scrubbing dirt and grime, rinse your siding from top to bottom, then let it dry. For stubborn stains, consider adding bleach concentrate to your solution.  
Complete With Your Porch And Pavement
Whether you have a large porch or a pavement that leads to your front door, it's essential to deep clean it. With that, you need to consider getting a pressure washer that cuts down on the cleaning time.  
With a pressure washer, ensure that you place away all porch furniture, start at your porch, then go down your pavement. Alternatively, you can use warm water, laundry detergent solution, and a bristled brush to clean. Use bleach concentrate with your solution for stubborn stains and let it settle before scrubbing and rinsing it off.  
Bottom Line
Cleaning the exterior of your house is as vital as cleaning your interior. As a result, make a point of cleaning at least once a year, with spring being the best time. And when cleaning, consider the materials used before choosing an appropriate solution that won't destroy your house. If you use a pressure washer, ensure that the pressure isn't excessive.