It is no secret that the farmhouse style is slowly but steadily on its way out. Though once extremely popular, farmhouse's star is fading and dozens of other interior styles are flooding in to take its place — from mid century modern to 1970s to maximalism to Georgian. Yet,
If you invested heavily in the farmhouse aesthetic while it was at its peak, you might be loath to let go of all the décor you have and love.
Fortunately, there are ways to salvage and subdue the farmhouse style, maintaining it in a way that allows your home to remain trendy and attractive to you as well as to those who visit. Here are a few tips for transitioning your farmhouse décor into something new.
Refinish Distressed Furniture
Distressing helps give furniture character, making it look older and more vintage than it actually is. The traditional farmhouse style favors a lot of distressing because it gives your home a sense of history. However, now that more modern interior aesthetics are dominant trends, distressed furniture no longer looks textured and interesting; it merely looks shabby.
Thus, the first step in keeping your farmhouse home in style is to refinish all your furniture pieces that have the distressed look. The easiest way to do this is with a few coats of paint, which you might apply with a sprayer or paint thinner to eliminate unsightly brush strokes. Sanding between layers can also provide a more even paint job. If you do not want to paint your furniture — and if you know that your furniture is made of real wood or thick wood veneer — you can try sanding off any lingering finish to reveal the raw wood and then staining and sealing the wood to your taste.
Swap out Word Art
Word art says a lot — literally. Unfortunately, it is exactly word art's ability to say what it means that makes this form of décor less appealing, especially as the farmhouse style's star starts to dim. Unlike other artistic works, word art tends to feel less personal and more mass-market, which is unappealing in a private space like your home. Thus, you should ditch most if not all of your home's word art and replace it with a colorful and unique piece of art.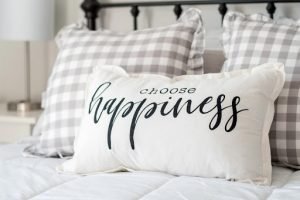 You don't have to let all your word art canvases and signs go to waste. You can recycle them into new, personal works of art using various art techniques like painting, cutting, sculpting, folding and more.
You don't need to be an experienced artist to make interesting and attractive art for your home; you just need to try.
Bring New Life to Lighting
Most farmhouse-style lighting is characterized by heavy, iron or wood chandeliers or else pendant lights with farm-inspired details, like glass jars or lantern shades.
Lighting does more to influence the style of your room than you might expect, so you will need to make changes to your lighting to update your farmhouse décor for the new era of interior design.
Because lighting is expensive, you should try to alter your existing lights where you can — painting them gold, for example, or replacing the shades with modern or neutral coverings. However, in some cases, you will need to replace your lights with something new. As long as you are reconfiguring your home's lighting, you might as well install rustic ceiling fans to keep your rooms cooler and more comfortable year-round.
Avoid Going Hard for Another Trend
You invested heavily in farmhouse décor when it was the dominant interior design trend, and now that it is waning in popularity, you might be tempted to ditch farmhouse entirely in favor of a style that is coming into season. However, following interior design trends so closely is a major mistake. Trends always come and go, but one aspect of interior decorating remains the same: the high expense.
If you are constantly chasing the latest and greatest interior aesthetic, you will be wasting countless tens if not hundreds of thousands of dollars trying to keep up.
A much wiser strategy is to identify an interior style that you like — that makes you feel comfortable and happy — and invest in components that fit aesthetically and naturally into your home.
If you still love your farmhouse décor, you can and should keep it around, making only minor updates to keep you cozy and contented at home.