Double glazed windows are composed of two glass panels with an air gap in between them. These windows are certainly a good investment as it is not only cost-efficient in the long run but can also offer a lot of benefits.
Double glazed windows are an effective thermal insulator that can help minimize your utility bills. The air gap separating the two glass panels acts as a buffer that helps in insulation. But aside from its thermal properties, double glazed windows can also aid in providing good acoustics in your homes, as compared to single glazed windows.
To learn more about double glazed windows and common window types, this article will help you out.
Casement Windows
This type of double-glazed window is attached to its frames by one or more hinges- can be on the side or on top. If the hinge is located on top, it's most commonly referred to as an awning window.
Casement windows continue to be one of the most popular styles that fit your home due to their durability and functionality. They can be made from timber or wood. But today, modern houses use casement windows made from aluminum or uPVC which can be powder coated and customized, depending on the design requirement.
French Casement Windows
This window type is similar to the casement windows. The only differing aspect is that French casement windows have their hinges on both sides. Therefore, you can decide to open the window from either side or both, depending on your requirements.
The advantage of this type of window is that it allows for opening from both sides, providing enough ventilation and a good escape route in urgent times.
Sliding Windows
A sliding window, based on its name, consists of glass panels that open via a sliding mechanism. This type of window is ideal for you if you want a hundred percent operable window in your home and you fancy an unobstructed view of the outside when the window is opened.
Modern sliding windows are equipped with mechanisms that help ensure they glide without getting stuck or being too heavy.
Tilt And Turn Windows
Tilt and turn windows have a hinge that opens the window inwards in two different ways. Tilting the window from the top helps with the ventilation, allowing the light breeze to come in.
Tilt and turn windows appear to have many benefits in the house. Aside from helping with the ventilation, it is also easy to maintain, it has better air-seals and offers more security. It also has hidden hinges, which can make your house's design modern and more aesthetically appealing.
Just like casement windows, tilt and turn windows can be made from natural wood and powder-coated aluminum or uPVC.
Bay And Bow Windows
This type of window can certainly spruce up the design of your house. By placing a bay window in a room, your space instantly gets a focal point.
Bay windows are composed of multiple side glass panels that surround a central panel which is placed at fixed angles, giving out a curved position of the windows.
Bow and bay windows promote natural illumination in your living spaces and can give users of the space an amazing view of the outdoors. You can consider placing a bay window next to a garden.
Skylights 
Skylights can definitely be a design statement in your house. Since it is placed on the roof or upper slab of the structure, it allows a generous amount of natural light to come inside your living space. In some cases, it can be operable, which can then allow fresh air into your house. Most designers recommend placing skylights on spaces that can appear dark during the day, such as corridors or long hallways.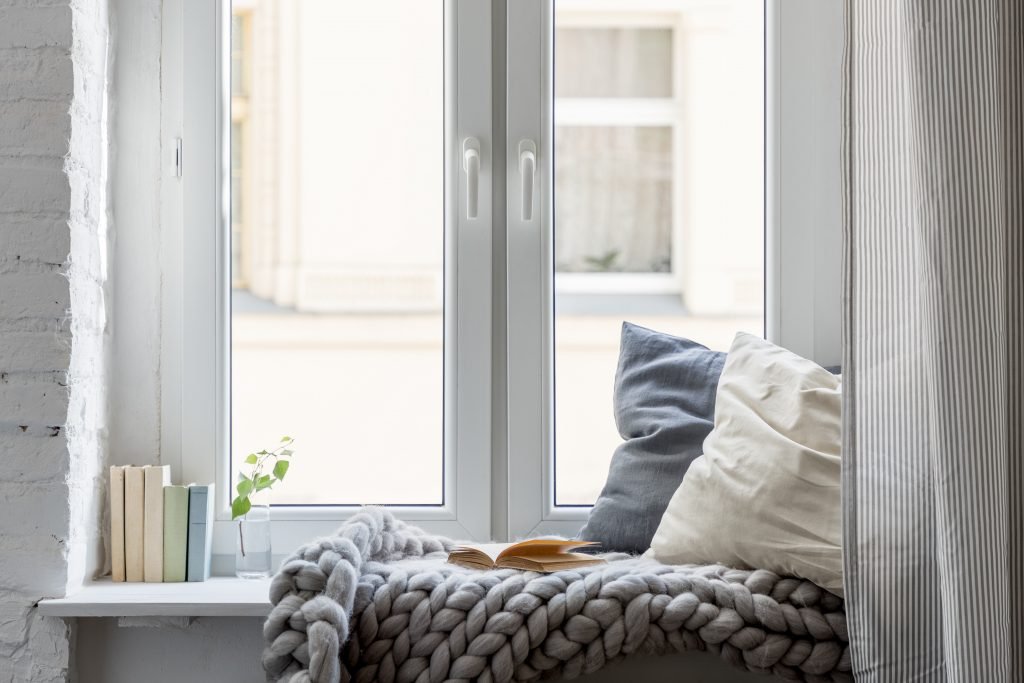 Installing a double-glazed window as your skylight can be beneficial since the two glass panels can also offer protection from the sun's harmful UV rays.
Take Away
When choosing the best double-glazed window for your home, you have to consider your design requirement and priority. Each window style has its purpose and use, and some seem superior to others. But at the end of the day, it's all about how well these windows can serve their purpose.
If you are working on a limited space, you can opt for window types such as casement, sliding, and tilt and turn windows. But if you are looking to maximize the use of your space and if you have a scenic view, a bay and bow window type can be ideal for your house.