These days many people turn to nature where they can have a good time, some qualitative rest and also find inner peace. Even those, who do not imagine their lives away from the city, find pleasure in spending weekends in the fresh air. That is why leisure time in the garden is becoming more and more popular. What is more, as many people are not so keen on growing fruit or vegetables and are just willing to have a worry-free time, a modern garden is far from the traditional one from decades ago.
How to begin building a garden house?
Usually, everything begins with a dream to run away from the city for a while and have a personal spot in nature. Then, many ideas can be born on how to make that wish come true. One of the best ways to fulfil that is the garden, and a garden house inevitably will be a very important thing. Even though the majority of the time in the garden is spent in the fresh air, it would be too complicated without a place to sleep or hide from an unexpected rain. Of course, before beginning the construction works, you should choose the right place and site – and it definitely does not need to be located in crowded community gardens. Now, it is very popular to settle somewhere farther from the usual garden spots. However, the most important thing is to find a place where you would be able to have a good time.
Later, you can evaluate the situation and clarify your own vision, as the site can be already customized for living, but it can also be absolutely abandoned. In the latter case, you will have to put quite a lot of effort to make a shabby piece of land become a dream leisure time space. At this point, a question might arise whether building your garden rooms should be a primary task, or should other things, such as infrastructure, be taken care of firstly. Both options have their own advantages. If the land is well-maintained, you can begin the construction works right away. In another case, it is useful to firstly take care of the environment; unless you are not in a hurry and are planning to dedicate a longer period of time for that. In this case, you will also need a place to sleep or at least to have some rest after working for the whole day.
It is also very important to pay attention to your personal vision which can differ each time. Some people want to have a space where they could rest effortlessly. On the contrary, others prefer more active free time and even are willing to do some physical labour, for example growing vegetables – your own grown vegetables will taste differently from those sold at the supermarkets. So, from the very beginning you should decide on how your future garden is going to look like and what would be the most suitable garden house.
What is the best size of the garden house?
It depends a lot on your personal needs, though usually such houses are quite compact. One of the main reasons for that is that the yard area is limited, so people prefer having more space outside. What is more, basically all the free time is spent in the fresh air, so you want to go inside only when the weather is bad or for getting some sleep. Some people do not plan to spend nights in their garden, so then there is definitely no need to even consider a bigger option as the smallest one will be enough.
In order to find the best solution, you should consider how many people are going to spend the time in your garden, whether you are planning to stay there for longer or will only be coming for half a day. Who knows, maybe it will become a unique summer and weekend residence? In this case, your garden house should be of a suitable size to make it comfortable to live there. However, there is definitely no need to build an ordinary house – it should be enough to have one bigger common area (as people usually like spending time together, even if the group is big) and one or a few smaller rooms. If you are not planning to have many guests, then your garden house could be even more compact.
When making a decision, take into account that house prices differ depending on the size. However, if you are planning to live in your garden house for longer, then you should not be too stingy. If a compact option is absolutely enough for you, then you should choose it as it will not be so costly. This is strongly advised if you are planning to come to your garden only on the warm and sunny days to spend some time in the nature, when most of the time you will be outside. In this case, garden rooms are needed only for unexpected events and storing equipment, so small ones are totally enough.
How to create attractive environment?
A modern garden is rarely imagined as full of kitchen-gardens and fruit trees. Now it is more focused on simply having a good time, not doing too much and relaxing rather than on harvesting. That is why you should consider not only practicalities, but also about how to nurture the beauty that would make you happy and would make your garden a runaway oasis. If you are willing to have such environment, you will have to put quite a lot of effort to see the results. What is more, a garden house adds a lot to the final image, that is why many people choose compact garden rooms that match the nature perfectly.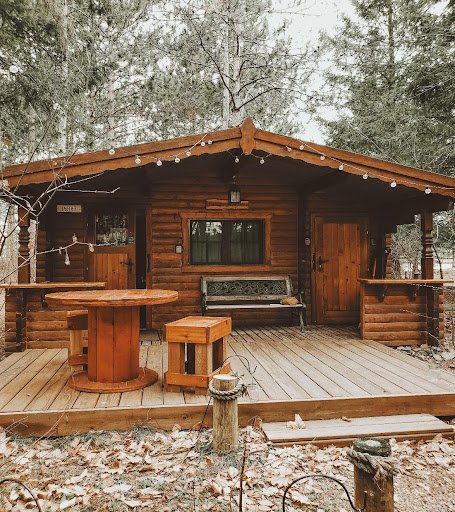 It will be the easiest if you consider everything and have a clear vision of the dream space beforehand. However, sometimes it is difficult to plan everything out in your mind, and is way easier to make decisions when you see some partial results. And that is not bad. In this case, it is the best to make everything slowly and with each step evaluate how it matches the surroundings and what else could be done. In that way, you will create a space of your wishes step by step.
When forming the land, the starting point could be a beautiful lawn, especially if you are not planning any bigger construction or other works that would ruin it. That will definitely change the view of the yard. And garden house will look differently in such environment. Quite often, at the beginning, people also take care of the green hedge or the fence, especially if you have neighbours and want some privacy. Then you can accomplish other tasks. It is important to remember that the main accent could be various plants, trees or flowers, and all the other details could be matched to them. To some purpose, many people want to spend their time in nature. That is why, while creating a cosy space, you should not forget it, as after running away from the city it is extremely pleasant to take a walk on the grass and not on the pavement.
The main interior rule – less is more
Many people must have heard this saying, and in this case, it is more suitable than anywhere else, as many people have to ponder a lot on how their garden house should look like. Especially, when it is not the main house but just a place to run away from daily routine, have some rest and have a great time. That is why all the usual solutions will not fit. Of course, it does not mean that you must invent something unique and exclusive, as simplicity that does not make you feel obligated to anything is the most charming.
You should not forget that not everything matches with natural wood. What is more, it might be difficult to create something outstanding inside a very compact house. And there is no need to do that if your garden house is just a small space that you enter sometimes and tend to spend the most of the time outside. Then it is better to concentrate on nurturing environment and choosing the most suitable garden house that will be comfortable and fulfil its functions.
If you are planning to stay in your garden house for a longer time, you will have to think wisely of the interior design. Wooden ceiling, walls and flooring might not create a cosy environment and remind more of a rural homestead rather than a sweet dream house. If you are going to live there for a longer period of time, it is worth considering the minimalistic style that is becoming more popular recently. It first appeared in such small dwellings built in the nature. Minimalistic light colours will match with timber and will not reduce the already limited space visually, and that is very important when designing a garden house that is small.
The same methods should be used for choosing furniture and everything else. There should be only the necessary number of them. Every additional thing takes space and might make you feel uncomfortably squeezed. It is essential to apply this rule for the common space where you plan to spend the most of the time, especially if a bigger group of people is going to gather. Bedrooms can be smaller as it is absolutely enough if you only go there to sleep.
Decisions that guarantee cosiness
Sometimes it is pretty difficult to understand what you need to make the space cosy. However, very often that can be guaranteed by small details. Designing your garden house is not an exception. There is no need to look for extravagant solutions; sometimes it might be enough of such a simple thing as shining lights at the entrance, or a terrace where you could spend your time in the evening or just read a book enjoying the peacefulness of nature. For having a better time inside the house, it is advised to have bigger windows which will allow you to enjoy the view better and will let it a lot of natural light. For those reasons, even a small house can have big windows.
Inside the house, there is nothing better than a burning flame in the fireplace in cold evenings. It creates a cosy atmosphere, helps getting warm and even allows you to live in a garden house on colder days. Of course, if the garden house will only be inhabited in the summer time, such element may not be obligatory. As in such situation, its functions will be fulfilled by a bonfire or a grill outside, where people can gather around.
If you want cosiness, you should not be scared to experiment; however, simple details and not complicated decisions usually are the most helpful ones. A suitable lighting or some small item can create a unique atmosphere. The most important thing is to pay attention to what kind of a garden house and environment is closest to your heart, and create it in a way to make you want to spend your time there. Relaxing and forgetting daily concerns are exactly what the garden is for.