When renovating a home, it's natural for most homeowners to want to save money at any possible opportunity. And, ignoring the need to hire a demolition company might be one. However, during the demolition process, there are so many potential repercussions that shouldn't be overlooked. That's why it's best to leave this task in the hands of professionals.
Even though it may seem like an easy task to push down a wall and put a new one back, there are way more complicated things involved in the process. Even though other people opt to do the work by themselves by simply following a guide on safe demolition practices for home renovation, it's still a much better decision to hire a demolition company. Here are the reasons why:
They Ensure Proper Management Of Waste Materials
A reputable demolition company will ensure that your waste products are cleaned up. You might already have an idea of the amount of waste a home renovation can generate, and this would require you to seek extra help from a waste disposal company, which also incurs costs. But, if you hire a demolition company, waste products would be the least of your concerns as they'd take care of such things for you.
They're Experts
Hiring a demolition company gives you more confidence in future results because they're an expert at what they do. You may not know it, but demolition for a home renovation requires not just skills in breaking down walls and breaking them into pieces, but also making sure that no other structures will be damaged throughout the process.
When you hire a demolition company, you're hiring an experienced expert who will ensure the entire work is done professionally, resulting in satisfactory results. If you're interested in hiring one for your home renovation project, you may visit this website or those of other reputable demolition companies in your area.
They Have The Right People And Tools
Many people tend to assume that renovating a home is as simple as hiring a simple services company and having an inexperienced crew come to break down the walls. Well, they're wrong. Renovating a home needs a demolition company with the right people and tools to demolish certain parts of the house.
The demolition team you'll hire should be able to bring all the necessary tools and equipment to the site, such as hydraulic excavators for low-level demolition, or big guns for more advanced projects. Also, it's essential to have the right people who understand what they're doing on the site and know how to operate the machines used for demolition.
They're Aware Of The Regulations
When renovating your home, some regulations need to be rechecked before any work begins. Fortunately, demolition companies are fully aware of all the civil or local rules that should be adhered to and the necessary documents to be prepared before the demolition commences. So, it's best to hire them to avoid future legal complications. But, ensure that the company you'll pick is licensed before hiring them.
They Understand The Dangers 
During the renovation, dangers go beyond having broken bricks falling on unexpected spaces. Another major concern you need to be on the lookout for is the presence of asbestos. This group of six minerals was widely used in the construction industry until the early 90s, at least in Canada. Currently, the use of asbestos is banned in more than 60 countries and territories in the world due to its health risks, such as being a cancer-causing agent.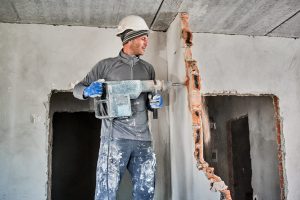 Demolishing an old home for renovation requires an expert who can handle asbestos with utmost care. An expert demolition company will help remove all the dangerous materials from the property before demolition even begins.
There Are No Surprises
Expect surprises if you try to handle the demolition project on your own as you basically won't have the exact knowledge of all the things that might go wrong along the way. But, if you hire a demolition company, you won't be caught off guard. Plus, you'll be able to estimate when the renovation project will be completed. 
Moreover, hiring a demolition company will help you determine the proper budget for the whole project. On the one hand, if you're doing the entire demolition process yourself, you might damage other structures or valuables, which means extra costs due to repairs or replacements.
They Ensure Protection Of Environment 
Demolition companies and ensure that services such as water, electricity, drainage, gas, telecommunications, TV cables, people around, and the environment are taken care of. 
Most importantly, they prioritize their clients' health and safety and those around them. They demolish the wall carefully to create minimum distractions and prevent any emission of harmful gases to the environment.
Conclusion 
Demolition companies are aware of the local rules and regulations, and adhere to them in the best ways possible, resulting in a project that won't get you into trouble with the law. Moreover, their skills and experience will all be worth the money you'll shell out, plus expect them to clean up as they go, which means you won't have to deal with the waste products the project will generate. Furthermore, they'll ensure everyone's safety and that they won't damage other structures, as well as adopt eco-friendly practices as much as they can.