Flooring is considered the foundation of any room. For that reason, it should always be aesthetically appealing and functional as well. While not a very glamorous interior change, it's one of those projects that'll certainly have a big impact on your home's overall appearance. 
Before making that drastic move of ripping your floors and replacing them with new ones with the help of this flooring contractor that you'll hire, it's a good idea to be mindful of some factors that you have to consider. By taking those into perspective, you can be certain that your new floor is appropriate for your home – and not one you've chosen on a whim.
If you're considering renovating anytime soon, here's a rundown of those factors that you need to consider before changing your home's flooring:
The Maintenance Requirements
Some types of flooring are harder to maintain than others. When choosing one, you'll want to wind up with that type of flooring which is the easiest to clean and maintain. Don't just think about the time involved for its upkeep, but also the cost. If it's going to be unreasonably high, then you have to consider choosing another type of flooring, which still delivers your intended results but doesn't drain your bank account.
For instance, tiled floors may require more cleaning and deep scrubbing after regular use. But it also requires less attention than a carpet would. Hardwood flooring may be expensive to install, but it's also one of the most durable and low maintenance. 
The Room Location
Are you changing all the floors in your home? Or, are you working on this project one room at a time? Whatever the situation, be keen about the room location as well. Here's why. The ground and basement levels of your home are more susceptible to moisture than those in the upper levels. So, you have to choose those types of floors, as recommended by your contractor, which can withstand high moisture levels. Otherwise, you'll have to deal with destroyed floors more frequently.
The Different Types Of Flooring Available In Your Local Home Depot
Depending on what's in stock, there are many different types of floors you can choose from, in your local home depot. The decision is based on your preference and your budget for this project. After that, you should know the different options of flooring to choose from to have an idea of what you're going to be looking for.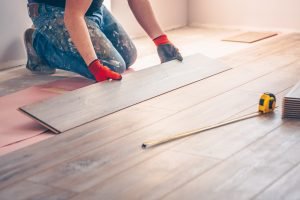 That said, here are some of the most common types of flooring:
Wood floors

– is

expensive, but durable and timeless

Stone –

is durable and has different colors and texture

Laminate –

mimics the look of hardwood, but lacks that same feel that real

engineered wood

has, plus it's more budget-friendly

Vinyl –

one of the easiest to clean, therefore making it a good choice for high traffic areas like the kitchen and the living room

Carpets –

add warmth and coziness to the room but require high maintenance and are difficult to clean.
The Color Options
With your flooring, it's best to go neutral. Don't overdo it by using different colors, otherwise, your floor is going to look distracting.
If you like to add hints of colors, you can do that in smaller areas like bedrooms, bathrooms, and hallways. Moreover, you can also put a splash of color on carpets for your children's playroom to make it look fun and inviting.
The Climate
Some types of flooring are best suited for a certain kind of climate. There's no one way to approach this, it'll depend on your home's location. The best way to ensure you're choosing the appropriate floor for your weather is to ask the sales associates when you're looking around for different flooring options.
For example, wood can easily warp and get damaged, while carpets can be a breeding ground for molds and mildew in highly humid environments. With that kind of temperature, tiles are always the safest choice.
Conclusion
Beyond their aesthetic value, floors hold a very important function in your home. This is the reason why floor replacements are always a sought-after project in homes. Whatever the reason you may have for opting to change your flooring, ensure that you seek advice from a flooring professional to help you in deciding the appropriate flooring based on your preferences and location. Consider the tips mentioned above to successfully change your flooring for the better. Just keep in mind that there is a perfect option out there waiting to enhance your home.