Roof cleaning is an essential aspect of home maintenance. If you spot a beautifully painted house with an excellent structure but dirty roofs, what will cross your mind? Different factors can leave your tops dirty. Exposure to moisture can lead to the growth of algae or moss. Also, dried leaves and foliage can litter your roof. 
Roof cleaning involves the removal of all this debris to keep your roof clean. Although it's possible to do it yourself, here's why you should hire professional roof cleaning services:
Removal Of Moss And Mildews
Have you ever seen some black and green streaks on your roof? If yes, you may have some mold and algae hanging over your head. Fluctuating weather conditions could lead to the growth of these organisms on your rooftop. They're not just some green slimy substances; they thrive in moisture and feed on whatever organic matter they see around. They also spread rapidly. 
It'd have been better if they stayed up there while leaving the rest of your home, but no. They spread down to your walls, gutters, fascia boards, etc., in search of food. This is why you need to act fast and call on a professional roof cleaning Manassas, VA to have your rooftops free from molds, mildews, and algae.
Safety
Roof cleaning requires a lot of climbing, standing on the roof, and other risky ordeals. Even professionals who are trained for the job still have a high case of workplace injuries. So, the risk could go even higher if you want to do it yourself without professional experience. This is why it's advised to hire a roof cleaning service to help maintain your roofs.
Professionally trained personnel have the necessary protective clothing, technical know-how, and tools to ensure their safety. This might not be the same for you. So, rather than face the risk of emergency situations, why not hire a professional roof cleaning service?
Prevention Of Roof Leaks
The debris and growth of moss and mildews could affect the integrity of your roof. Constant rainfall could also soften them, leading to perforation and leakages. A leaking roof is hard to crack and may even require a total roof replacement. This could be very costly, but there's a much cheaper option. Why don't you hire a professional roof cleaning service to maintain your rooftops periodically?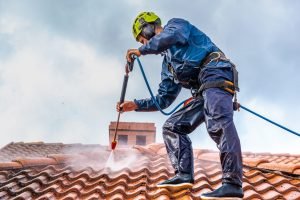 Cleaning yourself would be a stressful and daunting process that may leave you lazy for an extended period. Therefore, the best option is to hire a professional to help with this periodically. At the same time, you maintain the integrity of your roof.
Maintenance Of Curb Appeal
The best structures on the streets have to be layered with beautiful and clean roofs. This would add to the general outlook of your home. But what would you do about those slimy green algae crawling down your wall?
If you plan to sell your home, you need to make it look as appealing as possible. A dirty and moldy home wouldn't be attractive in the sight of a buyer. It'd even reduce the worth of your house. While planning to renovate every other part of your home before selling, ensure to not forget your rooftops. They're as important as the walls, doors, and windows. Hire a professional cleaning service to help restore your rooftops and improve your home's curb appeal.
Convenience
You'd agree that roof cleaning is stressful. Think about getting on to the top in the first place. Climbing lots of steps and ladders would exhaust you before the cleaning process starts. While on top, you're saddled with a few tools to clean a large expanse of rooftops. That's definitely going to cost you much energy and time. After getting it done, it's sure that your earnest desire would be to take a break for the whole day.
This is why hiring a professional with the expertise and experience is better to get the job done cleaner and faster. It'd cost you a few bucks, but it'll be worth the energy and time.
Get Quality Service
You'd agree without argument that a professional roof cleaning service would give a better work result than you would deliver yourself. They've been trained over the years to do that. They have also cleaned tens and hundreds of roofs to get the experience on how best to do the cleaning. Aside from the expertise and experience, they're also equipped with better tools to produce quality results.
Conclusion
You may think of trying to save money and just take up the roof cleaning by yourself. But think about the time and energy you would expend. Also, you might not get as many satisfying results as getting a professional to do the job. Spend a few bucks to hire a professional roof cleaning service, save time and energy, and get your rooftops shining.