Homemakers, especially moms, will tell you that they are more inclined to prepare delicious meals in a pleasant and functional kitchen. Something about it makes you exert more effort and elevate your food preparation.  
A beautiful kitchen will not just be a mere decoration in your home where you open take-out bags and lay down the food you ordered from delivery. It will be where you lovingly prepare food you will share with your family. It will be where you will collect happy memories amidst the aroma of pot roast and freshly baked dinner rolls.  
The global revenue can validate people's fondness for beautifying their kitchens in the kitchen furniture segment in 2022, which reached USD$54.77 billion and is forecasted to balloon to USD$80.49 billion in 2025, with a majority of the revenue coming from the United States.  
If you wish to style your kitchen like a pro, here are a few helpful tips for you: 
Have A Functional And Elegant Kitchen Island 
A kitchen island will make your space look stunning and professional. You may select from various materials that will suit your design style. Moreover, you may choose from granite, marble, quartzite, and dolomite countertops. For more kitchen countertop ideas, you may visit showrooms or check them online.  
A shiny and elegant kitchen island can be where you can whip up delicious desserts and sumptuous dishes for big family get-togethers or even just a simple dinner at home. This beautiful piece of furniture complementing your kitchen backsplash can become the area's focal point, so choosing it well is imperative.  
Use Creative Lighting 
Snapping photos of your culinary endeavors and posting them on your social networking accounts have become the norm. Why not? You have labored for hours and would like to show the world how proud you are of this little accomplishment.  
But what good is a dish if it is photographed in poor lighting? Increase the impact with the right fixture to show your masterpiece in the best light. Use playful pendants with the best glow to make your kitchen look like it was designed by an award-winning professional.  
You may also try using repetitive lighting, antique accents, and vintage lamps. This way, your kitchen would be worthy of a magazine feature. It would look like the kitchen in massive showrooms that professionals worked so hard on.  
Add A Pop Of Color 
You might have chosen neutral colors or whites on your backsplash and countertops. Add a pop of color to break the monotony by selecting vibrant hues on your cabinets, drawers, or kitchen appliances. A red stand mixer would be a great display to break the immaculate appearance of white in your kitchen.  
Add Some Plants 
Plants will not just beautify your space, but they will also add a feeling of calmness and serenity. You may hang an English Ivy near the window to accentuate your space. It will also reduce indoor pollutants like mold and bacteria, which is excellent for your family's health. However, keeping it away from your pets would be best, as it could be toxic to them.  
If you have kitchen window sills, pots of succulents can be a nice touch. It would be nice to put them in colorful terracotta pots for a more vibrant appeal. They're easy to care for and very well-adapted and won't mind a little neglect. Additionally, they retain water, so you don't need to constantly water them.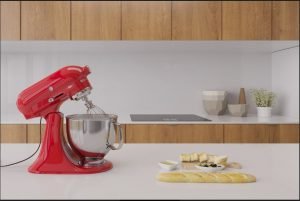 Furthermore, pots of herbs will be handy in your kitchen. Aside from making your area look aesthetically pleasing, you may use them for your cooking. Try basil, mint, oregano, and rosemary. And when you need them for cooking, grab a handful and chop them to add to your dishes. Your Bolognese and Pesto will taste more authentic with fresh basil on them.  
Put Some Works of Art 
A piece of artwork in your kitchen will be a great addition to make it look like a professional interior designer styled it. A kitchen wall art will make the space look unique and well-thought-out. One side of your kitchen can become a gallery of happy family photos or framed photos of food in eclectic style. Nowadays, it's common to display favorite food quotes from famed chefs like Julia Child or Gordon Ramsay. 
Display Your Prized Cookbooks 
If you're serious about learning kitchen tricks and trades, you might have collected several expensive cookbooks over the years. Displaying them in your stylish kitchen would be ideal. It would be best to stack them in between unique kitchen-themed bookstands.  
Conclusion 
Styling your kitchen would need a dash of creativity and plenty of inspiration. Many homeowners rely on designers to do the task for them, but a lot would also prefer to DIY most projects. Honestly, whatever floats your boat and your budget can muster is all that matters. At the end of the day, if you have planned it well, the outcome will be just as you would expect. Better to check out ideas and suppliers online, especially for furniture, such as kitchen islands and countertops, so that you can craft the best plan for your stylish kitchen. And if you decide to put a carpet in your kitchen, we recommend installing a carpet pad also.