If you have decided to install security doors in your home to increase security, then that's a great choice because it gives you peace of mind and ensures your family is safe at home. However, before deciding which door to buy from onsite security doors, you need to know which type suits your home and budget. There are many companies manufacturing security doors today, and most have fancy names for their doors which can make you overwhelmed and confused. 
In this guide today, we show you the four different types of wrought iron doors for single entry with their descriptions so that when you are choosing the kind of security door for your home, you will make the right choice that suits your style and home.
Single security doors
If you are looking for a security door for your standard front door, then this would be the best choice for your home. The single security door is a common type of security door. As simple as its name sounds, it usually comes in different designs other than the vertical bar design.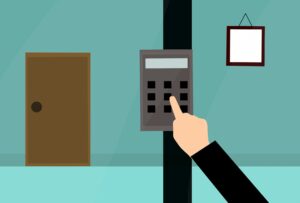 You can purchase single security doors at big box stores, but we strongly recommend that you buy them directly from the manufacturers to know who made them and if you can also get warranties on them. Buying from a manufacturer is beneficial because you can also request for custom-made single security door depending on the style and design you need for your home. 
However, it's advisable to shop around different manufacturers and check out the different add-on designs they have available for you. Also, make sure that your security door is invulnerable to professional lock picking tools to safeguard your property.
Double security doors
If your home has double sliding doors or what is commonly known as French doors, then double security doors would be ideal for your home. Standard double doors are similar to single security doors, except they are two – one main door and one more that you can slide open and closed.
Same as single security doors, the double security doors come in numerous designs, and styles ranging from the simple vertical bar design to the more elaborate wrought iron doors, floral, medallion, or sliding glass doors. Whichever design you need for your home it can be custom-made from the manufacturer you choose to purchase from.
Mesh doors
if you are looking for another option for security doors, mesh security doors are a great alternative. Mesh may not sound as strong as steel security doors, but a mesh screen is designed from steel. It cannot be kicked in or ripped, so it still provides your home with ample security.
You can also have these custom-made, like having a removable glass panel, which you can safely remove when the weather gets a little bit warmer to allow fresh air to flow into your home while still keeping intruders at bay.
Laser doors
Laser-cut steel doors are also another option if you are in the market for security doors. These bring another level of customization for you, which may not be available with single and double security doors. Just choose from a variety of designs that suit your home, and what's more, they can be made into single and double door styles too.