These days, kitchens are the focal point of the home. They are a bustling hive of activity, and this makes them a lovely and inviting place to enjoy everything from family meals to fabulous dinner parties. If you're keen to maximise the potential of your new kitchen with a sociable and stylish dining area, there are plenty of different options available. Here are a few of our favourite kitchen dining ideas…
Sociable Kitchen Breakfast Bar By AD3 Designs
Though they offer useful storage and worktop space, kitchen islands aren't just ideal for enhancing cooking. When combined with a breakfast bar and casual seating, they can make a fantastic place to host a variety of laid-back gatherings, from sophisticated drinks and nibbles to quick midweek meals. The stylish grey bar stools below elegantly complement their sleek contemporary setting.
Spacious Bar Stool Seating By TBKC Essex
The number of guests you're able to impress at your island is only limited by the size of your room and the amount of space you're willing to dedicate. And if you love hosting relaxed get-togethers as opposed to more formal dinners, a spacious island could be the perfect alternative to a traditional dining table. Positioning your hob on your island allows you to keep your guests entertained while cooking. Bold colours and atmospheric lighting bring a fantastic sense of theatre to this sociable kitchen.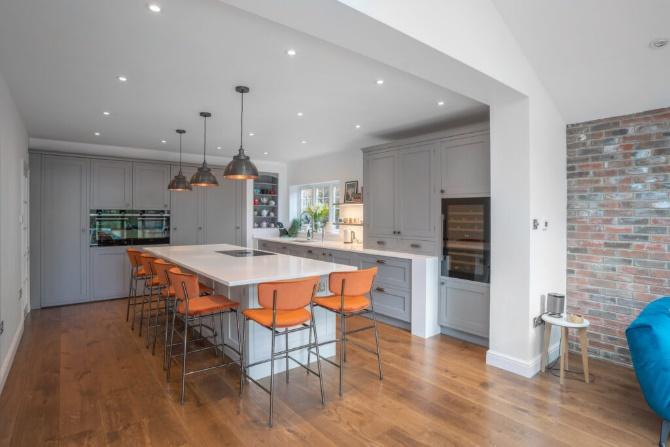 Classic Kitchen Dining Island By Mulberry Kitchens
Much like a traditional dining table, designing your island to accommodate seating on either side can make socialising easier. The arrangement below also offers a little more legroom than a breakfast bar, ideal for longer sit-down meals. This clever dining island seamlessly elevates this charming classic space.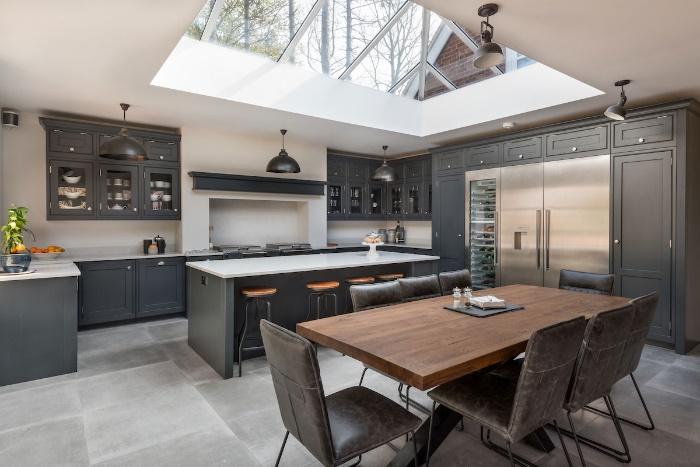 A Kitchen Peninsula For Two By Tomas Kitchen Living
If you don't have space for a kitchen island, why not consider a peninsula? Peninsulas provide many of the same benefits as kitchen islands, including room for a cosy breakfast bar. A compact peninsula dining area is perfect for kid's breakfasts and couple's brunches alike. And, as this kitchen goes to show, they can look just as stylish.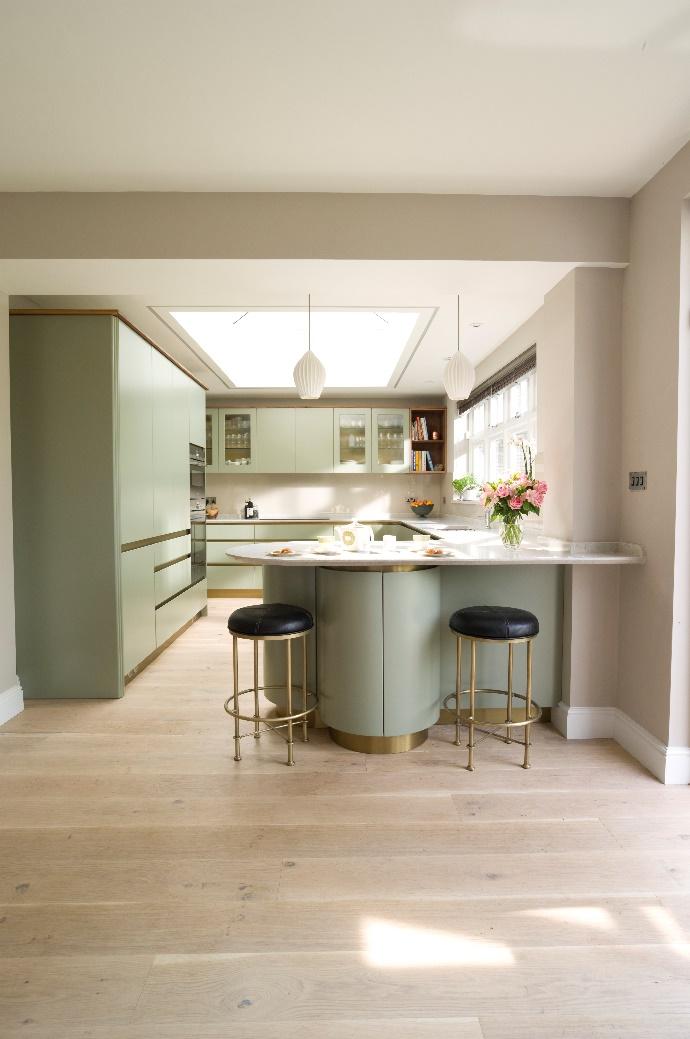 Family-Friendly Breakfast Bar By Kreativ Kitchens
Bar stool seating makes a chic place to perch. However, it isn't always suitable for young children. Nevertheless, making your kitchen family-friendly doesn't necessarily mean sacrificing your dream of a stylish and sophisticated breakfast bar. In the kitchen below, the timber breakfast bar has been lowered and wrapped around the island, creating a stunning feature. The versatile dining chairs are comfortable for family meals, games, and even homework.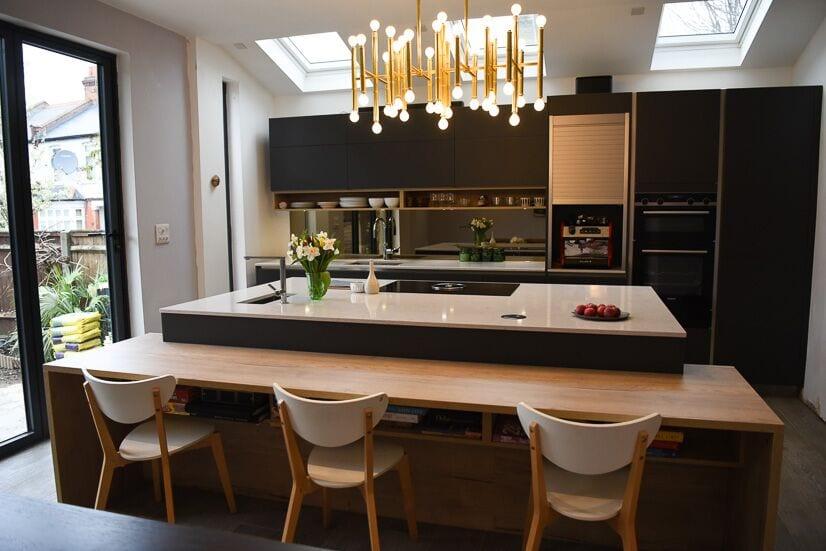 Island Kitchen Dining Table By Kreativ Kitchens
Combining the convenience and comfort of a traditional table with the eye-catching looks of a kitchen island, an island dining table offers a clever way to maximise floor space. Contrasting materials and beautiful accent lights can help differentiate your dining area from your kitchen.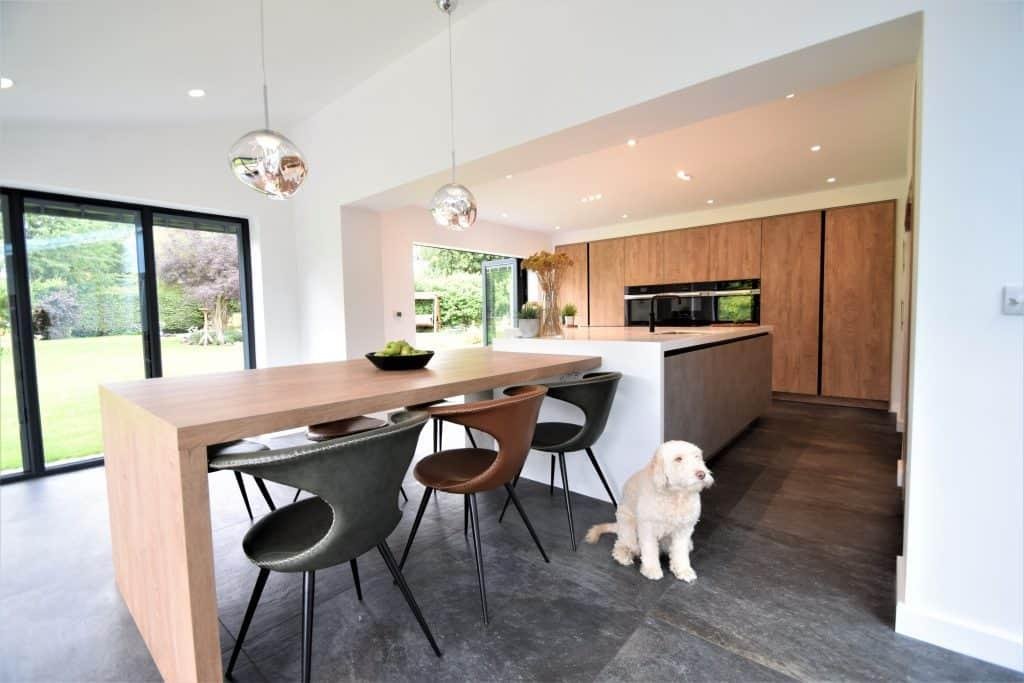 Space-Saving Kitchen Banquette Seating By Ruach Kitchens
Squeezing a dining table and a kitchen island into one room can be tricky. However, for many families, a classic kitchen table is a must. If a contemporary dining island doesn't suit your layout or style, an ingenious banquette seat could offer a wonderful solution. Incorporating bespoke seating into your island allows you to position your table against the island in the centre of the room. Built-in bench seating can even double-up as handy extra storage.
The Timeless Dining Table By AD3 Designs
Though they don't offer quite the same benefits in terms of storage and appliances, opting for a dining table rather than an island can bring a more open, spacious and informal feel to your kitchen. Dining tables are generally more comfortable for sit-down meals and offer great flexibility. You can use them for food prep, art and crafts, games and homework, and can move them around to suit your needs.
Pairing Formal & Informal Dining By Mulberry Kitchens
If you've got the space, why not embrace the best of both worlds with informal island seating and a traditional dining table? A kitchen island makes a lovely place to start an evening with drinks and nibbles before moving to the dining table for the main meal. Using your island as a laid-back focal point is a great way to put guests at ease, as well as preventing them from getting under your feet while cooking.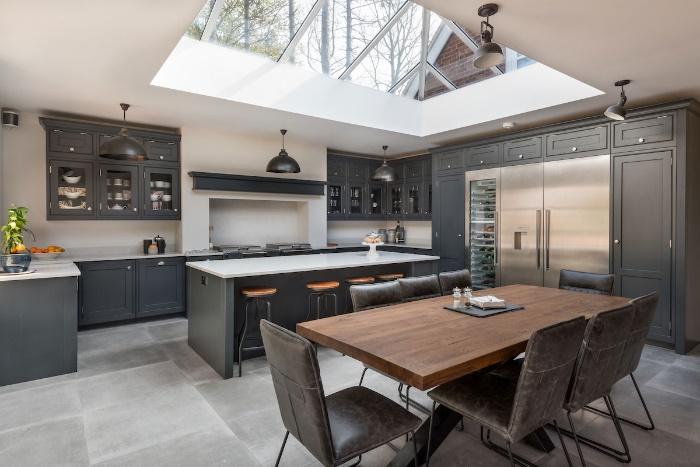 Whatever your lifestyle and space, there are plenty of ways to incorporate a dining area into your design. We hope this article has given you some great inspiration. However, if you'd like more advice on how to create a sociable and versatile bespoke kitchen, we recommend getting in touch with your local independent specialists.