Modernizing your home may require renovations or upgrades, which could be a worthwhile investment. Generally, these will bring a better level of comfort and efficiency, and it's possible with the addition of several electrical upgrades. Aside from improving overall functionality, a home with electrical upgrades will boost its resale value. 
A house with outdated or poorly functioning wiring can be a safety hazard due to the high risk of electrical fires. If you want to improve the safety of your home, including its overall functionality, it may be time to focus on your electrical system. Here are several electrical upgrades worth considering to modernize your home.  
If you're planning on renovating an old house, you should replace outdated outlets and check for faulty wirings. Replacing old and outdated outlets will greatly help lower the risk of electrical shock, power surges, and fires. Working with a reputable Brisbane electrician and other service providers is a good starting point if you want to guarantee an effective upgrade.  
When upgrading the outlets in your home, you should also keep in mind the size of your family. Try to picture your household's electrical consumption a few years from now. As your family grows, so will the household's electrical needs. Consider installing additional outlets in every room, especially in the home office, kitchen, outdoor spaces, and bedrooms. 
Today, each person owns at least one smartphone, laptop, or tablet. With this in mind, a dedicated area to recharge devices is necessary and something to consider in your upcoming renovation project. Adding a charging station is the best way to lighten the load for other electrical outlets, and they will also serve as a central spot to charge your devices readily.  
Ground Fault Circuit Interrupters (GFCIs)  
Over the years, ground fault circuit interrupters (GFCIs) have become a crucial addition to homes. In parts of the house constantly exposed to moisture, such as bathrooms, kitchens, and outdoor spaces, GCFI plays a key role in maintaining safety. Instead of triggering the breaker to trip, the GFCI switches instantly when an outlet is exposed to moisture to prevent electrical shock and a possible fire. Due to their important role, GFCIs are prerequisites in construction or renovation projects.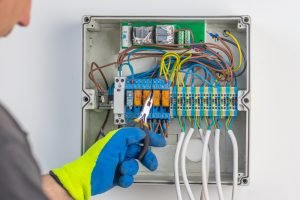 One way to modernize your home is to consider installing smart home features, which include mobile applications that help you get the most out of the upgrade. Alarm systems, door locks, thermostats, lighting, and surveillance cameras are just a few examples of smart upgrades. Generally, upgrading the electrical system to include smart home features will require a budget, but it's a worthwhile investment in terms of functionality and comfort.  
It's unlikely for a major electrical storm to happen, which may depend on your location and weather conditions. However, consider getting a surge protector as a preventive measure, and it's best to add one during a renovation project. This gives you the highest level of protection for your home's gadgets and appliances.
If you have an old home, it's likely you also have an aging electrical panel. Sadly, an outdated electrical panel may no longer be able to keep up with modern appliances as they develop and demand more electricity to operate properly. Keeping this in mind, you should upgrade the electrical panel as part of your renovation project. The newest models are sufficient to support modern devices and high-power appliances. A new electrical panel is a worthwhile investment to ensure your home is safe and surge-free for years to come. 
The wiring plays an important role in the electrical system in your home. However, if the wiring is old or shows evident signs of deterioration, it can pose a safety hazard due to the potential of causing an electrical fire.  
A wiring system that was once adequate could get overloaded in the future as more appliances and devices develop with more advanced technology and higher power demands. Sadly, if this happens, it can overload the fuses and breakers. Rewiring your home is best done during a renovation project when the walls are likely open and the electrical system and existing wiring are easily accessible.
Most homeowners these days place a high value on their ability to create the ideal ambiance in each room. If this applies to you, consider upgrading the lights and switches in your home. With this in mind, you should be familiar with the suitable type of lighting to install in the different rooms in your home. Many options are available on the market today, including 3-way panel sliders, dimmer switches, and sensor lighting, to name a few.
The installation of heated bathroom flooring may be a luxury for some, but it'll be an advantage during the cold season. Generally, the upgrade involves the placement of thin radiant matting underneath the bathroom tiles. Most of the latest systems are readily adaptable, with a thermostat and timer system you can switch on before taking a shower. Also, heated flooring can prevent mold growth in humid bathrooms. 
Final Thoughts 
An upcoming home renovation may be the ideal time to upgrade the electrical system. Your quality of life will significantly improve by adding electrical upgrades, particularly ensuring safety, comfort, and functionality. Consider the electrical upgrades discussed above in your upcoming renovation project to modernize your home in the best way possible.