Fences can improve your home's appearance, increase property value, and give you privacy. Also, your fence is your first line of defense in your security and safety protocols. Hence, installing your fence must be done right the first time.
Regardless of the materials you use in fencing, whether wrought iron, wire, aluminum, wood, or a chain link, here are do's and don'ts you should keep in mind when installing your fence:
Do's Of Fence Installation
There's so much that goes into installing your new fence. To ease the fence installation process, consider doing the following:
Hire Professional Contractors
Installing your new fence can be difficult, especially if you haven't done it before. You may hire professionals to help you build your fence in such cases. You can enlist many Seattle providers to help bring your wall to life. However, working with experts means you must understand the contract they give you before you schedule the installation and signing. 
It's best to gather photos for inspiration before the installation to get the fence you want. Additionally, ask questions about the materials, style, and installation before signing the contract. Your fence contractor should be able to give you clear and precise answers regarding these.
Before you start your installation, research various aspects, such as acquiring permits or setting budget limits based on the market prices. You can also ask your neighbors, municipal building officials, or neighborhood associations about the regulations dictating your area's materials, height, and fencing look.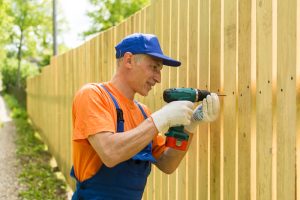 Include researching the distance of your fence on your property. Setting three to seven inches from property lines and sidewalks is common. But this varies based on your location.  
Your fence is a significant and permanent investment that alters the look of your property, and you must be ultimately satisfied with the installation. You must be present during installation so the contractors can ask you questions, point things out, and explain decisions as they install the fence.  
Monitoring the installation allows you to communicate with the installers in case you have concerns. This is better than coming home to a fence that doesn't look like what you wanted.
Talking to the neighbors with your share boundary lines can help ease the installation process. As you speak to them, be confident with your choice to avoid giving the impression that you'll change your mind if they have minor suggestions or objections. Likewise, hearing them out can make a difference in your relationship, and if you're lucky, they may want to split the cost with you or add more fencing to match yours. Otherwise, your chosen fence contractor can help you diffuse the situation by speaking with them professionally.
Show The Contractors Any Underground Lines
To avoid accidents and losses, you must show your fence contractors where the underground lines are on your property. The lines can include electric wires, drains, pipes, and sprinkler systems. That said, it's best to know where these are in your yard.
Don'ts Of Fence Installation
Aside from knowing the things to do, there are a few things you should avoid to prevent an unexpected outcome. Below are some of the don'ts of installing a fence.
Your fence should get quality materials and artistry to do its job. It will help if you avoid trying to cut costs for unreliable construction and cheap hardware. These things could cost you more in the future because of the lack of durability and the need for repairs.
You should carefully measure your boundary lines. Building a fence is a permanent construction, so it should have the right measurement on your boundaries to ensure peace with your neighbors or not give land away. 
The corner posts on your fence carry the weight of the two stretches. Make sure to include the bracing in each direction to provide the fence with more security, firmness, and durability.
Rush The Installation Process
The outcome of a rushed project isn't always good. Therefore, you should take your time with the installation process and carefully go through each stage. For instance, when choosing a contractor, opt for one who will listen to you and follow all the procedures to complete your project. Furthermore, go through the regulations and avoid unrealistic goals, budgets, and timelines.
As mentioned, fence installation can be challenging and is a professional job; unless you're an expert, it's best not to do it yourself. Do your research on what you need in your fence but leave the actual installation and making to the skilled fencing company you hire. 
Conclusion 
Fence installation seems like a straightforward home improvement task, but there are various considerations, like the few mentioned above. If you want to secure your home or boost its appearance with a newly installed fence, use this guide and consider the dos and don'ts. Likewise, hire the best fence contractor to achieve your desired fence.