Does your face lack the fine makeup look? Do you miss fixing the crooked lipstick because you didn't notice? Instead of blaming your makeup skills, it's time to upgrade your dressing table mirror and rock that flawless look every time. so that you can see a clearer light to apply your best drugstore contour or makeup.
However, the question is how? The answer is, of course, with LED lights.
Here we have a detailed guide to help you create your dream mirror. 
Essential Tools and Materials Required to Vanity a Mirror
Before we get to the process, it is important to gather all the equipment required to create a beautiful vanity mirror.
So, you will need the following stuff. 
A Mirror
If you browse the options, you'll come across various shapes like circle, square, rectangle, oval, diamond, and so on. Order any shape that grabs your attention. 
 If you have a fine-looking mirror at home and you want to re-use it, go for it.  
Hook and Hammer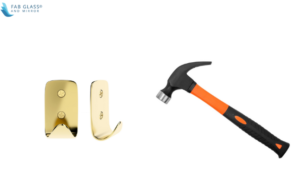 For a wall-mounted mirror, you need a hook and fix it on the wall with a hammer to hang your mirror in place
LED Lights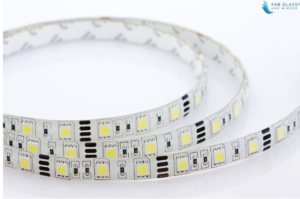 To elevate the look, and brighten up the vibe, get a string of LED lights to decorate the mirror. 
Measuring Tape and Marker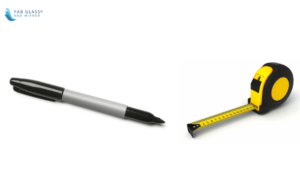 Have a measuring tape handy so the bulbs have equal spaces between each other. And use a marker to mark the points where the bulbs would stick. 
Now when you have these things ready, you are all set for the job. 
DIY Steps to Make Vanity Mirror
A pretty vanity mirror is every girls' dream. So it's a fun task to design one for yourself. 
If you are interested in learning the DIY steps, here you go!
Get The Mirror Ready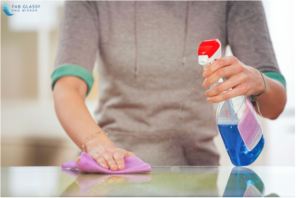 First, place the mirror on the hook and see if it adjusts well. Then clean it nicely to get rid of the fingerprints on it. 
Unpack the LED lights
Open the string of LED lights and you'll discover that they have adhesive sticking at the back of each bulb. That's how they'll stick to the mirror. Untangle the string and count all the bulbs.
Mark the points
Next, mark all the points where you would stick the bulbs. This way they'll have equal gaps and you won't panic in the end. 
Fix the Lights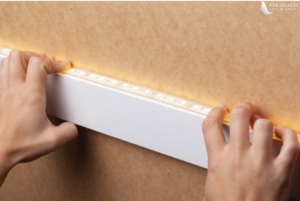 Start with one corner of the mirror and keep moving forward while neatly wrapping the wire around each bulb as you go to the next one. Make sure you end it up at the bottom corner so you can take the wire behind the mirror and connect it to the plug. 
Be a Little Extra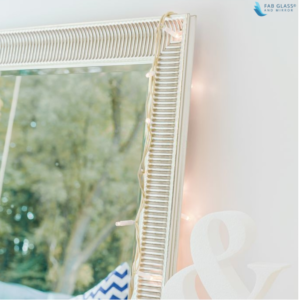 You can even elevate the look with some floral stickers or stars on the frame. Not only they'll look girly, but it will show your extra efforts and creative interior design sense. 
Finally, you're done with your DIY mirror. Trust your eyes and give a pat on the back. Good job, girl!
LED Bulbs vs LED Strip Light Vanity Mirror
Comparing LED bulbs vs LED strip light is cool because both are trendy. They come in two variations of white, warm white and cool white. However, all makeup maestros suggest warm white light for a flawless makeup look. 
If you prefer bright light to get ready, the LED bulbs are the perfect choice for you. However, if you want a Hollywood inspired mirror, LED Strip light gives you that effect. 
The LED strip light is easy to put as compared to the LED bulb because the former usually has an adhesive peel; you just have to stick it around your mirror and connect with a power supply, and it glows.
 While with the bulbs, you need to handle the wiring too and it's technical to hide the wires underneath. If you think that you wouldn't be able to execute the bulb thing perfectly, then LED strip lights are a safer option to go for. 
Why Get a Vanity Mirror With Lights?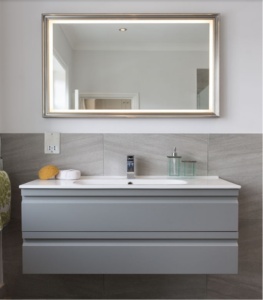 Are you obsessed with makeup? After having impeccable makeup skills, the secret to perfect makeup is good lighting. So, invest in your passion and get a mirror adorned with cute lights. It looks super classy, helps a lot with the makeup, and is reasonable too if you plan to DIY it. So, stop procrastinating and start working on the mission of making a "vanity mirror" right away. 
From Where to Buy a Readymade Vanity Mirror?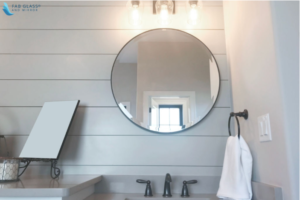 Not everyone is great at DIYS and we understand it. It's better to choose a safe option rather than wasting your time, money, and energy.  Don't stress out if you're unable to put up a DIY vanity mirror for your room. Because we have a super cool option for you. 
Order your favorite piece online and fulfill your dream. 
If you are looking for a reliable store to get a high-quality vanity mirror online, I recommend opting for Fab Glass and mirror. Presenting a range of LED vanity mirrors, you are free to choose your favorite one. Moreover, the company is renowned for manufacturing and selling finest-quality glass products throughout the USA. 
Customize a Mirror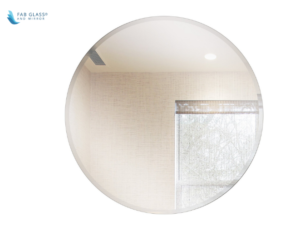 The best part is that you can also customize a mirror using the platform and create something that you love. Promising excellent quality of mirrors at reasonable rates, this brand stands out from the rest. You won't get this chance everywhere. What are you thinking of? Get to the page, follow these steps and start designing
First, choose your favorite mirror shape

Select the dimensions that would look best on your room wall. 

You can even select the mirror types from standard, antique, bronze and grey mirror. 

Then select the thickness.

Finally, select the edging from beveled, pencil polished, and Flat polished edges. 

When the mirror is ready, recheck the specifications in the summary.

Order, when you are done. 
If you like the idea and would like to try it, check the collection of vanity and makeup mirrors here. 
Ending Note
Being a crazy fashion trend these days, LED vanity mirrors have become an internet sensation. Bring one home or DIY one, give a luxurious look to your boring room and say bye to makeup mishaps.
Enjoy! However, wait did you get the mirror?
Post the mirror pictures for people who are looking for some inspiration.