Who does not love a clean bathroom? I doubt if there is anyone like that. A clean bathroom keeps your bathroom looking not only good but also presentable. 
A clean bathroom lifts your mood and improves how happy you feel. It also gets rid of disease-causing organisms, helps to keep unpleasant odors at bay, and keeps your bathroom looking good.
How do you keep the bathroom clean without stressing yourself? That is what I will be explaining in this guide.  This will cover how to get rid of specific dirt types that make your bathroom dirty and unpresentable. 
DIY Bathroom Cleaning Tips
The following are tips that can be used to ensure a clean bathroom that will keep not only your husband in a good mood but also everyone at your home.
DIY Cleaning stickers from bathroom
There are numerous reasons why people choose to have anti-slip stickers in their bathtubs. Some of the benefits of stickers include the fact that they are a stylish addition to the bathroom, are easy to clean and maintain, and do not serve as hideouts for germs. 
Besides the above, stickers provide you with a good grip that prevents you from slipping when having a shower. It's not uncommon for slips and fall accidents to happen in bathtubs as they are slippery in nature. Also, unlike mats, stickers can be used on every part of your tub that you would like to cover.
While having stickers may be beneficial for the bathroom and you, sometimes they have fulfilled their purpose, and you just want to remove them or replace them. They can be challenging to remove, and scraping them with metal can do much damage to your bathtub.
To remove stickers easily, lift the corners of the stickers carefully. You can do this using a plastic scraper or your fingernails. Spritz the stickers generously with pretreatment products designed for laundry. Allow the stickers to soak for some hours in the spray. 
This will loosen up the industrial-type adhesive used in the stickers, and they become easy for you to peel off. Clean off any residue and rinse the bathtub.
Cleaning mildew from bathroom grout and corners
Mildew is unattractive, to say the least, apart from the fact that they house disease-causing germs. A great do-it-yourself solution to getting rid of mold is to make use of vinegar. This method is easy and straightforward.
Pour white vinegar into a bowl or container. Using an old toothbrush, dip into the vinegar and scrub off the mildew. Scrub until there is no longer a trace of mold or mildew on the grout and corners.
For stubborn mildew, mix vinegar in a spray bottle. Spray the mixture on the grouts or bathroom corners where you have the mildew and leave for up to ten minutes or more. Rinse off afterward and if you still notice any, scrub off with the toothbrush.
Apart from vinegar, another home solution for mildew is to make use of bleach. Mix up water and bleach in equal proportions. Spray on the mold, leave for some time and wipe off with a clean cloth.
Use DIY Soap Scum Remover for perfect cleaning bathroom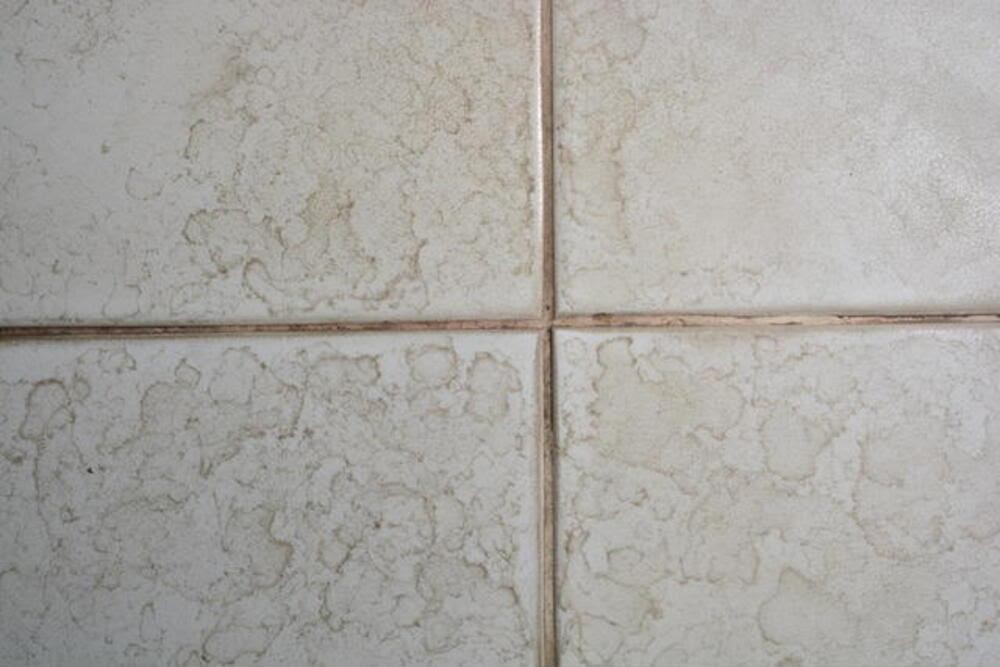 A great DIY soap scum remover that will not only help to get rid of soap scum from glass shower doors but will also prevent the further buildup of soap scum, is the Sparkle Cleaner by Fab Glass and Mirror.  It gets rid of water stains and tough soap scum on your shower doors. 
Besides the Sparkle cleaner, lemon oil meant for polishing furniture can also be used as a DIY soap scum remover. Follow up your regular cleaning with a wipe on your shower doors using lemon oil. Leave for a few minutes and dry off with a clean cloth. 
The lemon oil will leave behind an oil film that prevents soap scum from building up frequently on your shower doors.
Regularly use a squeegee after every shower as a regular DIY soap scum remover tactic. 
DIY cleaning hard water stains from shower door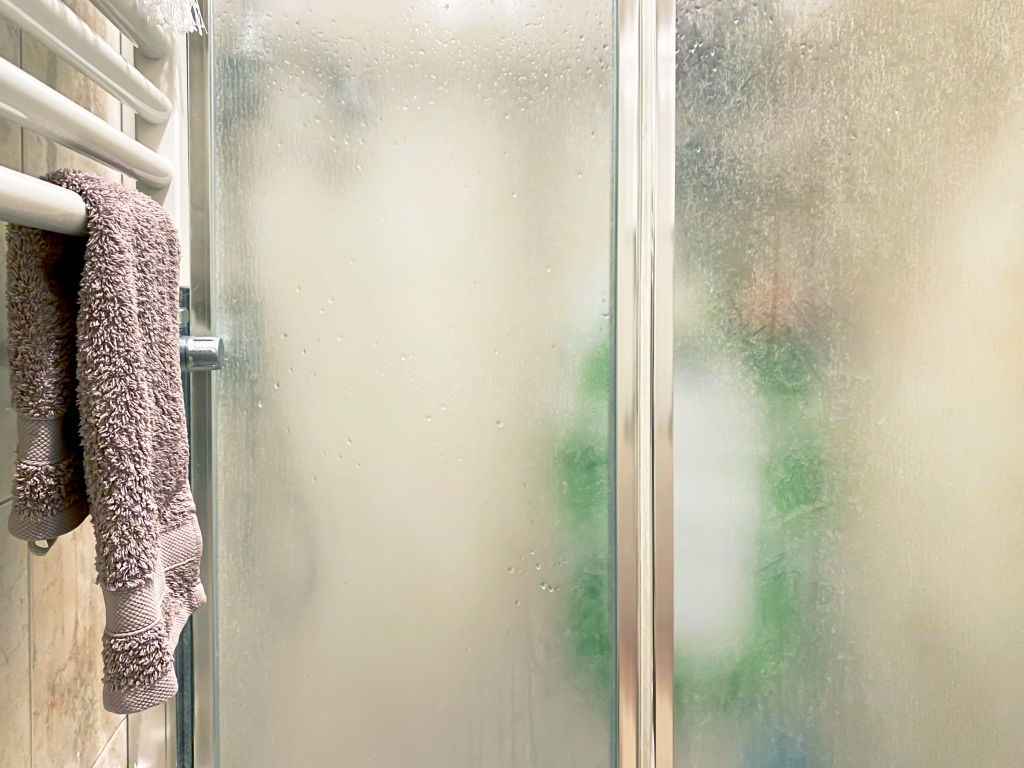 Hard water contains many minerals, which can cause buildup on your shower doors. Hard water makes your shower doors look like there's a film on the door. 
To get rid of the stains, you will need the following ingredients for a complete DIY solution. Baking soda, vinegar, and salt will get rid of the stains in no time.
Apply vinegar on the stains and leave for some minutes. Mix baking soda and salt in even proportions to form a paste. Smear the mixture on the stains with a sponge and rub in a circular motion. Rinse with warm water, and all stains should be gone. 
You may consider to have a read on what is standard size of a shower door if you are planning to replace this.
CONCLUSION
The above tips and DIY solutions will keep your bathroom looking clean and neat. This will improve the mood of not just you but everyone in the home, including your husband.